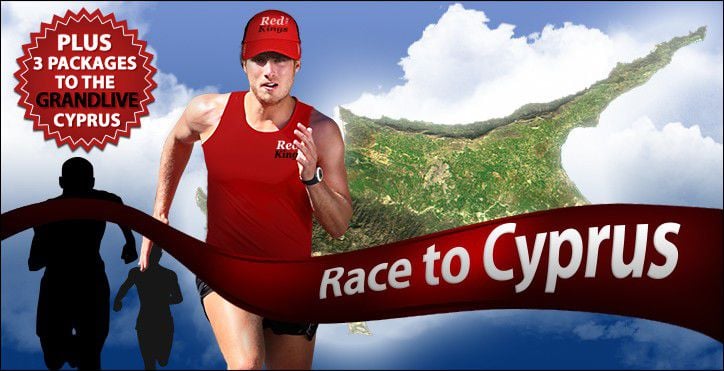 Race to Cyprus
Our €12,000 Pooled Race for January just got even better !
Now also win a €3,000 Package to the GrandLive Cyprus as well as cash from the Races below
Just earn over 6000 RedKings player points (Platinum VIP level) in January and play in a Freeroll with one €3,000 package for every 10 players
Cyprus Package Freeroll: 06.02.2014 (19:00 CET)
What you get:
i)

Two €6000 races lasting for 15 / 16 days in January (first prize 900 per Race)

ii)

All VIP Cashback – up to 40%

iii)

Any Bonus you may be eligible for (includes first deposit bonus)

iv)

Entry to our January Daily Races based on your daily performance

v)

Entry to a Freeroll to win €3000 package to play live in Cyprus with hotel and hospitality for 2 people
It's a great Deal!
Please note: For a Cyprus Freeroll ticket you must play in one race or both and your total points for January add up to a min of 6000 RedKings player points
---Terms and conditions---
RedKings Live tournament Terms & Conditions
Terms and conditions
- The Campaign period is between 01.01.2014 and 31.01.2014
- The Cyprus package to be won is worth €3000. It comprises of one buy-in (€1500) plus Hotel and Hospitality for 2 people sharing (€1000) plus €500 towards travel.
- Maximum number of €3,000 packages we are giving away is three
One day is 01:00:00 - 00:59:59 GMT
This means that the first day you can enter the challenge is the 01.01.2014 and the last date to enter the challenge is 31.01.2014
Collaboration and account sharing is completely prohibited and may lead to account closure and confiscation of any possible funds on the account.
A RedKings account is personal and shall only be used by the person whose details match those registered under the account. Failure to abide by this may result in immediate disqualification from this promotion.
RedKings reserves the right to refuse payment to any player whom is found to be colluding/soft playing to generate hands.
Race prizes can be combined with possible bonuses, valueback and other promotions.
In case of conflict or discrepancy between the English language version of these terms and conditions and the translated versions in all other languages, the English language version shall prevail.
Standard RedKings terms and conditions apply.
You can now get your Race winnings by logging into My Account and going to your Account Summary page. Just click on the Claim Prize button and your winnings will be added to your Account balance automatically. All prizes must be claimed within 7 days from date the prize is issued. After this all unclaimed prizes are lost.
RedKings reserves the right to register certain players to this promotion based on their previous activity.