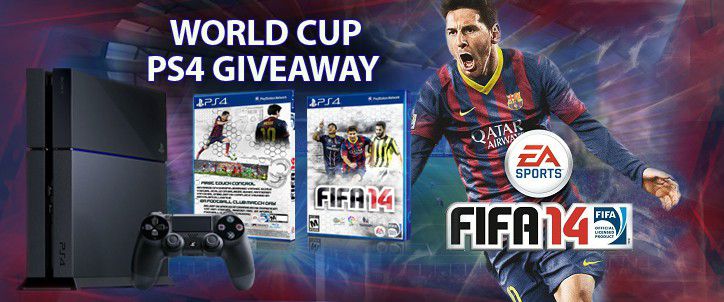 The World Cup PS4 Giveaway
12 June 2014 – 13 July 2014
Now on Cash games
Make the Requirement and Qualify for €10,000 in prizes
Top 10 players win a PlayStation 4 console + FIFA 14 game
The rules are easy:
Earn One Race point on cash games per day for 16 days
Collect them between 12 June – 13 July
Get a Special ticket to a Freeroll with €10,000 in Prizes
Note: One Race point = 50 RedKings Player points
Leaderboard
Bonus/Value back + Point per Day Prizes = Great Value!!!
---Terms and conditions---
Terms and conditions
- Each playing day stretches from 00:00 – 23:59 UTC
- All players that earn a minimum of 50 Player Points per day for at least 16 days out of the 32 day promotion on ALL stakes, will receive one free tournament ticket to the WORLD CUP SPLASH played at 20 July 2014, 19:00CET 2014. Freeroll ticket winners will be credited latest 18 July 2014 and it is each player´s responsibility to manually register to the tournament in due time in order to participate.
- The prizes will be fulfilled by Ongame Network and Initial Rewards. By participating in this promotion you agree to RedKings supplying Ongame Network and Initial Rewards with your contact details to arrange the delivery of your prize. Your contact details will not be shared with other 3rd parties, nor will Initial Rewards use your details for anything other than the fulfillment of your prize.
- Delivery of the PS4 will take place within 90 days and it is the player's own responsibility to pay any custom duties, taxes or storage charges incurred in the player's home country.
- Award of PS4 is subject to availability and RedKings reserves the right in its absolute discretion to substitute the award of a PS4 for an alternative prize of similar value.
- Winners must claim their prize latest 3 months after the freeroll ended from play@redkings.com. After this time, all unclaimed prizes are lost.
- Eventual winners from Russia, Belarus, South America, Far East & Norway will be offered cash or tournaments tickets instead of PS4 due to high duties, taxes etc.
- Winners are eligible to exchange their product prize to €300 in cash prize alternative €400 in tournament tickets, paid into their RedKings account.
- All winning accounts are subject to standard Fraud and Security checks to ensure compliance with the terms and conditions stated before any prizes are processed.
- RedKings reserves the right to change or modify this promotion at its sole discretion.
- RedKings Tournament Management decisions are final in all matters.
- RedKings reserve the right to modify the terms of this promotion or to discontinue it at any time.